2022-10-16–2023-03-19
opening October 10th from 6.30pm
with Martine Aballéa, Joshua Abelow, Gene Beery, Karina Bisch, Jean-Luc Blanc, Corentin Canesson, Nicolas Chardon, Claude Closky, Anne-Lise Coste, Jessica Diamond, Pierre di Sciullo, Chloé Dugit-Gros, Chad Etting, Éléonore False, Sylvie Fanchon, Marie Glaize, Joseph Kosuth, Muriel Leray, Jonathan Martin, Raffaella della Olga, Camila Oliveira Fairclough, Walter Swennen, Christian Robert-Tissot, Júlio Villani, Elsa Werth, Virginie Yassef, Rémy Zaugg
curated by Sylvie Fanchon, Camila Oliveira Fairclough
MRAC Occitanie/Pyrénées-Méditerranée
146 avenue de la plage, Sérignan, Fr
mrac.laregion.fr
---
En revenant de l'expo
article, 2022-11-27, excerpt
« Aoulioulé offre à chacun·e le soin d'apprécier les œuvres exposées comme "des coins à pique-nique, des auberges espagnoles où l'on consomme ce que l'on apporte soi-même" qu'affectionnait Francois Morellet…
Parmi les emplacements pour le pique-nique découverts à Sérignan, on retient naturellement l'œuvre de Kosuth et celle de Muriel Leray, évoquées ci-dessus, et la très belle paire de guillemets en raku de Éléonore False qui encadrent cette citation de celui qui fut un des chefs de file de l'art conceptuel aux États‑Unis. »
---
You will hear about SheFi. It will be about the future. And something here does not sound familiar. When was the last time anyone you know spoke about the future? I mean, for real? Will you remember? Is time still a thing? (...)
---
2022 john cornu ivan liovik ebel jérôme guitton muriel leray
ZQM, Berlin, De. Collective piece and publication.
Curated by Eric Emery.
2022 EX.PDF "Exposer les écritures exposées" 14 & 15/15
Martinique, Fr & Okinawa, Jp.
Curated by Label Hypothèse.
2022 Montages
Instants Chavirés, Montreuil, Fr.
Event, 05/29, 4-6pm. Curated by Jérôme Guitton.
2022 is that named
Text about John Cornu CUT-UP pieces, JOHN CORNU catalog.
cultureclub–studio / La criée CAC / les presses du réel.
[...]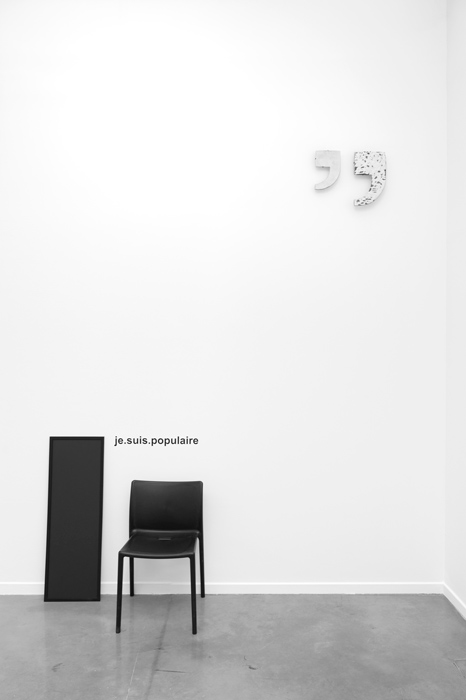 Les usagers peuvent critiquer leur famille
ou insulter sa résidence
2016–Aoulioulé, MRAC Occitanie, 2022
here with « » by Éléonore False
wood frame, black cardboard, vinyl lettering, chair
97 x 104 x 50 cm, image Aurélien Mole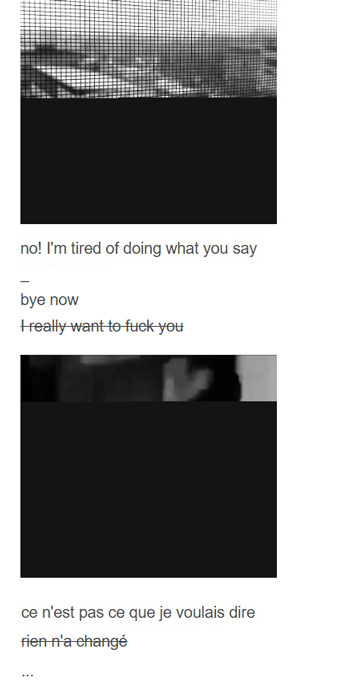 Talk to me
2022
web app
launch at Les Instants Chavirés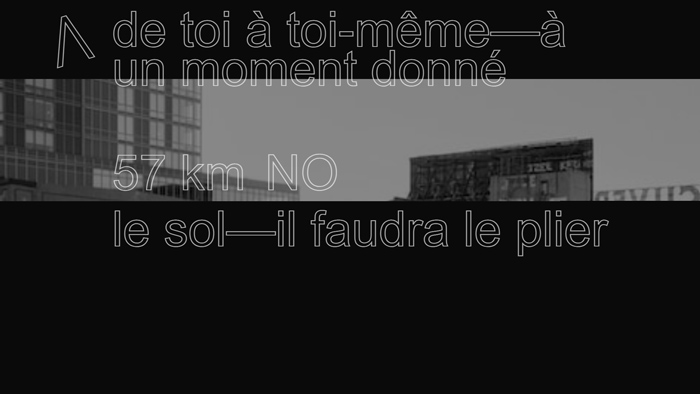 Hyperdrive #4
work in progress
real time geolocation web app
and piece for piano, strings and electronics