Jérôme Guitton | About rest, reset,
Fr
L'expérience elle-même nous prépare à être attentifs aux absences. Car s'il y a une première chose qui frappe dans ce monastère, dans un premier temps, c'est bien la composition des absentements. La vidéo se coupe parfois ; les bruits de foules et de respirations s'interrompent ; leur spatialisation les fait s'éteindre au moment où les fresques deviennent lisibles, quand la profondeur elle-même s'absente.
Ces absentements marquent aussi des fractures entre fresques et monastère virtuel. Le bruit est bien une sorte d'impossible des fresques, dont le dessin ne peut pas tout à fait solliciter l'oreille. Mais c'est surtout deux qualités de silences auxquelles nous sommes confrontés. Un silence spatialisé, temporalisé, qui surgit dans le monastère par surprises successives, un silence d'interruption ; un silence atemporel de la fresque, qui se lie à la capacité d'abstraction du langage, suggérant ici une sorte de pauvreté choisie par l'artifice virtuel : l'argent n'est pas emmêlé à l'existence de notre avatar et de son monde (« and nothing of value was lost » vient nous aussi faire prendre conscience de cela).
(...)
En
The experience itself prepares us to pay attention. The first thing that can strike us in this monastery is a composition of absences. The video is sometimes cut; the sounds of crowds and breaths are interrupted; their spatialization makes them fade out when the frescoes become clearly legible, when the depth itself vanishes.
These absences also mark fractures between the frescoes and the virtual monastery. Noise is out of reach for frescoes; they cannot quite reach our ears. But more importantly we are confronted with two different qualities of silence. A specialized silence, temporalized, which arises in the monastery by successive surprises, with the silence caused by an interruption; and a timeless silence in frescoes, related to the capacity of abstraction in spoken languages, here suggesting a kind of noble poverty in virtual worlds: money is not entangled with existence for our avatar and his/her world ("and nothing of value was lost" would make us aware of this fact).
(...)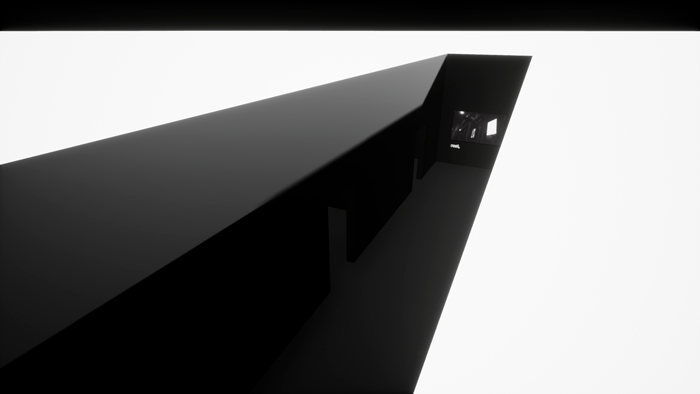 rest, reset,
Virtual Dream Center 3.1.2
2019
Unreal Engine
curated by Jean-Baptiste Lenglet and Jessica Boubetra